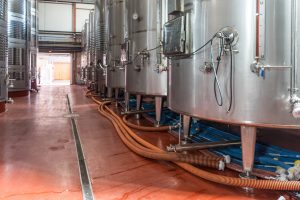 In collaboration with the AI3 Science Discovery (AI3SD) and Internet of Food Things (IoFT) EPSRC Networks the RoboClean team ran a workshop in London on the 17th of October. The focus of the workshop was to discuss how digital technologies such as AI, sensors and robotics can be used for enhanced allergen detection and factory cleaning within food production environments. The workshop was well attended by a range of stakeholders from industry, academia and organisations such as the Food Standards Agency. The morning of the workshop had three speakers. Nik Watson from the University of Nottingham gave a talk on the future of factory cleaning. This talk covered a range of research projects from the University which developed new digital technologies to monitor and improve factory cleaning processes. The second talk was from AI3SD lead Jeremy Frey from the University of Southampton. Jeremy's talk gave an introduction to AI and covered a range of new sensors which could be used to detect the presence of allergens in a variety of food products and environments. The final talk was delivered by Martin Peacock from Zimmer and Peacock, a company who develop and manufacture electrochemical sensors. Martin gave an introduction to the company and the technologies they develop before demonstrating how there sensor could be connected to an iPhone and determine the hotness of chilli sauce. Martin's talk finished by discussing how electro chemical sensors could be used to detect allergens within a factory environment. The afternoon of the workshop focused on group discussions on the following the four topics – all related to allergen detection and cleaning within food production:
Data collection, analysis and use
Ethical issues
Cleaning robots
Sensors
Each group had a lead, however delegates moved between tables so they could contribute to more than one discussion. At the end of the workshop the lead from each group reported back with the main discussion points covered by the delegates. The delegates on the 'robotics' table reported that robots would play a large role in the future of factory cleaning as they would free up factory operators to spend time on more complicated tasks. The group felt that the design of the robots was essential and discussed that new factories should also be designed differently to facilitate robot cleaning more easily. The group also thought that effective communication with the robot was a key issue which needed further research. The 'sensors' group reported that any new sensors used to detect allergens or levels of cleanliness would need to fit into existing regulations and practices, but would be welcomed by the industry, especially if they could detect allergens or bacteria in real-time. The 'data' group reported that there was a need for data standards relevant to industrial challenge and there was also a need for open access data to enable the development of suitable analysis and visualisation methods. The 'ethics' group discussed numerous key topics including, Bias, Uncertainty, transparency, augmented intelligence and the objectivity of AI.